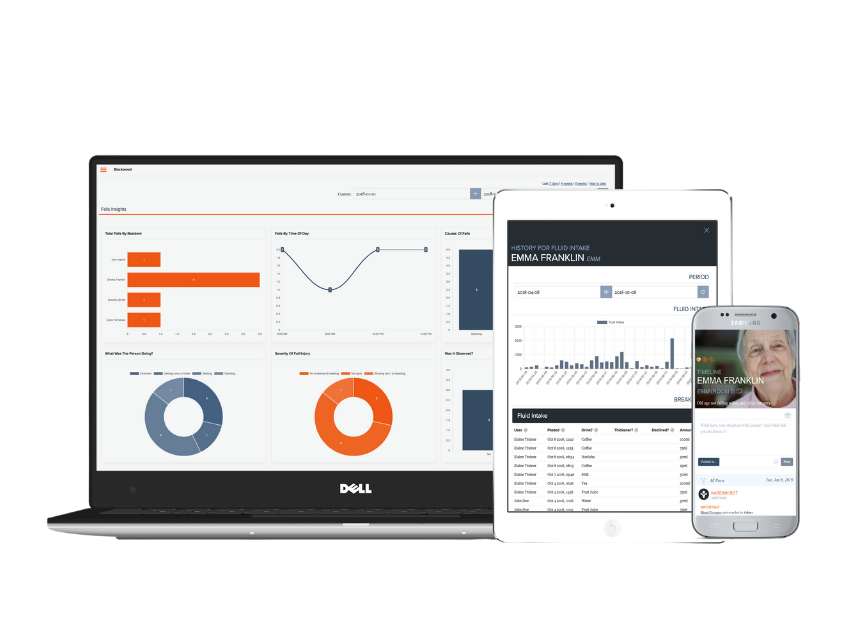 KareInn's NHS funded collaboration with Ally Acoustic Monitoring and Friends of the Elderly is halfway into the research programme, with early signs of improved health outcomes for residents, including a 55% reduction in resident falls, and 20% reduction in hospital admissions.
As we reach the halfway point of our unique cross-party programme, which includes KareInn, Ally Acoustic Monitoring and Friends of the Elderly and NHS Digital we have been able to pause and take stock of our achievements and lessons learned along the way.  On behalf of the Social Care Sector, we have been trialling new applications for Artificial Intelligence and integrations that go beyond the standard sharing of information, in an attempt to explore the possibilities of existing and potential use cases of AI in social care.
Friends of the Elderly's Chief Executive Steve Allen said: 
"The welfare and safety of our residents is our key priority at all times. The ability to monitor remotely day and night via an integrated solution is a huge benefit to our teams who are under additional pressure due to COVID-19. The integrated systems are a solid asset which helps them to continue to safeguard the health and wellbeing of our residents."
From the outset, the consortium aimed to use their expertise to pioneer the positive impact that the combined technologies of software and A.I  could have on care delivery in Care Homes and health outcomes for their residents.
By combining the data from these two platforms, predictive modelling can not only work to provide earlier intervention but also help to reduce the need on acute services, helping to reduce the need for hospital visits.
The delivery of this programme at scale has the potential to lead to high impact cost savings for the NHS as well as improved patient quality of life. A win-win.
Evidence from our research to date, shows that the integration of Ally Acoustic Monitoring with KareInn software has seen:
– Improved Infection Control & Reduced Transmission of Virus. Ally acoustic monitoring alerted staff to a resident who was coughing more than usual in the night.  Management were able to review the coughing data by trend, and took steps to isolate that resident who later went on to develop a temperature.
– Successful Heart Attack Intervention, night staff were alerted via the Ally Acoustic Monitoring of a resident in distress, unable to get to call bell due to being in cardiac arrest.  Staff were able to intervene and call an ambulance
– 55% reduction in falls through better sharing of data
– 20% reduction in hospital admissions – further research required, but this could be related to the reduction in falls.
– 75% drop in the need for physical night time checks by staff
The research is due to conclude January 2021 and KareInn looks forward to presenting the full findings to you.
This is just one example of our collaboration with best in class partners, and we look forward to sharing more examples with you over the coming months.