KareInn's Director of Innovation & Partnerships Rachelle Mills, explores the art of the possible for care data, and discusses how if properly utilised from an R&D perspective, it could be the gift that keeps on giving.
Have you ever tried to spot a trend using one of your lever arch files?
It would be difficult, right? As a sector, 50% of us are still operating using pen and paper, and 30% of that 50% are entirely paper based for absolutely everything. Either way, that information is being generated and recorded for care home use, for resident and family use and for the CQC. It could be better utilised if we were able to collect it in a way that was fit for purpose, and then repurpose it to improve care.
Digital software providers are in the privileged position of capturing data connected to an individual's life story through the care that is documented. And those residential care providers that have gone digital, can today guide frontline care staff to relevant facts and priorities at exactly the right time. A great example of this is how we keep an eye on a resident's fluid levels. Using a digital care planning platform, we're able to cross reference that with how likely someone is to have a fall. Using their dehydration score, we can give a heads up to the care assistant on duty, that this person is more likely to have a fall within the next 24 hours.
The nature of health is such that if we intervene at the right moment, we could actually change the trajectory of a health or care outcome.
It's incredible, right? KareInn produced the below graph seven years ago when we set about building our digital care planning software, and we were thinking about how processing those volumes of data that residential care produces on a daily basis.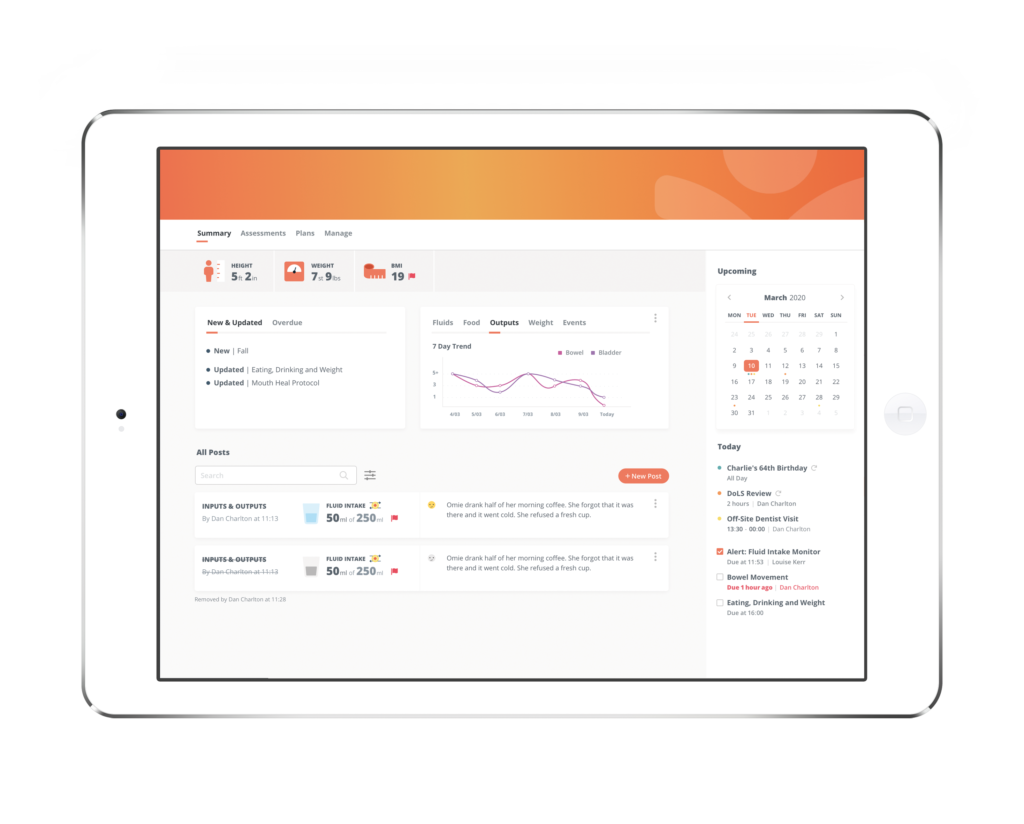 If you follow the top line, you can see that the resident has pressure wounds, has had a fall and then a chest infection. They have a high-water level score, and through reduced movement they've gone on to develop a pressure ulcer. It's a picture we all sadly see quite regularly. In this example, they've woken at night and unfortunately, it's led to a fall. And through this picture, we can see that they've taken a trip into hospital, which is where they've acquired a chest infection, and it's led to a much steeper decline.
Now, I'm not saying that with the aid of technology, we can avoid pressure ulcers altogether. But what we can do is try to have an impact on the trajectory of that resident's decline. Perhaps we can stave off that ulcer, and we can avoid the fall or to trip to hospital altogether.
That same graph can be applied to hundreds of other care outcomes. In the future we can apply data analysis to try to reduce agitation, and perhaps we can get to the bottom of what's causing sundowning.
The bigger data picture – our modern legacy
As care needs go up, so does dependency, which then of course increases the workload for the care assistant. The more we can help residents to stay well and remain as independent as possible, the more we relieve the enormous pressure on our care assistants. The happier the residents, the happier the care operator. A win, win.
The bigger picture, what I like to call our modern legacy, shows the powerful impact data can have on your frontline. When we share with our residential care customers during their onboarding training how the information they're capturing is contributing to a much bigger picture, we find a willing and engaged workforce, keen to play their part in making a difference.
About 400,000 care professionals left their jobs in 2022, which is more than a quarter of the workforce, and with a predicted shortfall of 650,000 care roles by 2030, a staffing crisis really is the sector's reality. There has never been a more vital time to embrace digital and the benefits it undoubtedly brings to care.
At KareInn, we see the possibility to create better, more dignified care for residents in care homes, and we harness evidence-based digital technology to deliver a personalised service that addresses persistent unmet needs across the care ecosystem. Wherever you are on your digital transformation journey, we'd be happy to talk to you about how we can support you so please reach out to Rachelle Mills on LinkedIn or email hello@kareinn.com